Are they or aren't they? That's the question on everyone's lips. No, we're not talking about Ross and Rachel from Friends (which by the way has made a huge come back online). The latest duo getting all of our relationship radars in a tizz is none other than up-and-down daters, Rihanna and Drake.
Ok, so unless you've been living under a rock, you've heard that Drake bought a billboard in Los Angeles congratulating Rihanna on winning the MTV Artist of the year award.
He followed that up with a very lovey-dovey introduction at the MTV awards as he presented her the award. The introduction included him saying that he's been in love with Rihanna for 11 years, since he was 22 years old, and collective jaws dropped across the twitter-verse. This was the #1 trending topic from the MTV awards show, and this show had very trend worthy moments including: Britney Spears comeback, Beyonce's 14 minute virtuoso performance, and a rant by Kanye West.
Even before this though. They sent tongs wagging with their latest music video earlier in the summer for Rihanna's single "Work", it seems that their relationship is very much on! For basically the entire video, Rihanna playfully (and very suggestively) sways and bops to the song's Caribbean beat while Drake is all too happy to have her grinding on him. These two know how to make it "Work".
But this public display of attraction has been a long time in the making. Their courtship began back in May 2009, when the twosome first got together at a New York bowling alley. The encounter even inspired the rapper to pen a song about it called "Fireworks", found on his album "Thank Me Later". When asked about their hook-up later that year, Rihanna played down the rumors in a radio interview while Drake admitted to XXL that the rumors were "semi-true". So coy, these two…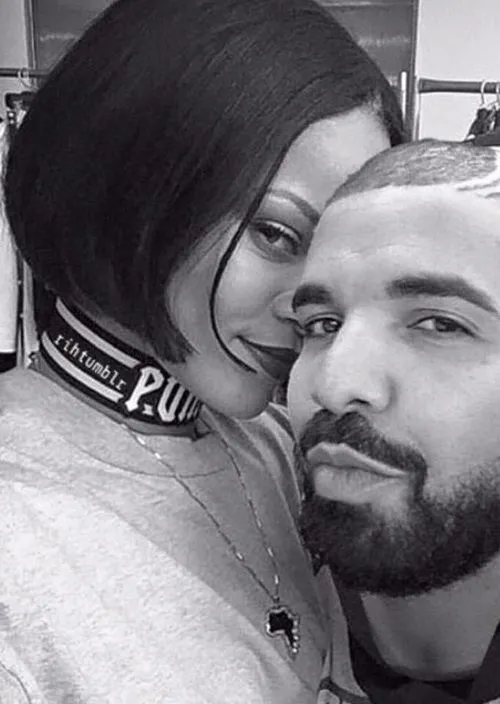 Cut to October 2010 and the duo collaborate on the track "What's My Name", the music video for which shows them in romantic scenes, all coupled up. A case of art meets reality? In Drake's opinion, most certainly. He wrote a verse for "Made Men" by Rick Ross, where he raps: "One of my baddest women ever, I call her Rihanna. But that's cause her name is Rihanna."
The next instalment in their maybe-coupling came in November 2011 on their smash hit single "Take Care". The music video upped the ante from their last effort, including even more physical contact.
But it was not all smooth sailing between the two. Enter Rihanna's ex-boyfriend, Chris Brown. Rumors began swirling that Rihanna was back together with her ex which culminated in an alleged bust-up between Drake and the R&B crooner in a New York nightclub. On the incident, Drake commented: "At one point, the woman he loves fell into my lap." But despite it all, Drake held no hard feelings towards his former flame, as he told Ellen DeGeneres: "Great girl, we had our moment. Always support and have love for her."
Which leads us to 2016, when the two were spotted secretly meeting in Los Angeles. It was later revealed that the pair would be collaborating once again on the lead single for her latest album "ANTI". And the video did not disappoint. The two are clearly still very comfortable with each other, proven as they engaged in even more PDA in a steamy live performance at the 2016 Brit Awards.
So what do you think? Are they on or are they off? Maybe we'll never fully know… until their next music video, that is.

Rihanna and Drake Are Definitely Together!