These days refugees are kind of like the plague, nobody wants them.  This is because people don't realize how much the entire culture of the world is based on the migration of people. Our world is made up of diverse and colorful people and we grow stronger when we share ideas, history and empathize with each other's struggles. Refugees are immigrants who have just cause for relocation. These are people who may not otherwise be able to survive in their country of origin because of war, famine, and injustice. But these people have undiscovered talent, brains and beauty. The world can capitalize on this untapped resource. We are financially stable when our workforce is broadened. We should welcome refugees and refugees should welcome the cultures that they want to be a part of; peaceful assimilation. Now let's all sing Bob Marley songs and get along!
Now before you disagree, let's take a look at refugees you know and love.
Celebrities Who Are Refugees:
ALBERT EINSTEIN
"Einstein was a refugee." That was the message emblazoned on Shiloh Jolie-Pitt's T-shirt recently as she made her way through Los Angeles' LAX airport. Flanked by her siblings and mother, Angelina Jolie, at only nine years old, she seems to be following in her mother's humanitarian footsteps. The photo was taken as the multi-cultural family were on their way to Turkey to visit Syrian refugees on World Refugee Day.
The Jewish physicist who changed the world, and was one of the smartest people ever, fled Germany when the Nazis rose to power and became an American citizen. Einstein's theories, including relativity, are a basis for much of our current scientific theories.
FREDDIE MERCURY
The legendary frontman of iconic band, Queen, was actually born in Stonetown, Zanzibar. Born to Indian Parsee parents under the name Farrokh Bulsara, he and his family were made to flee the country when Indian and Arab minorities were massacred in 1964. The family eventually settled in England, and it was this struggle that helped him achieve the feats of his career. "If I lost it all tomorrow, I'd claw my way back to the top somehow," he said.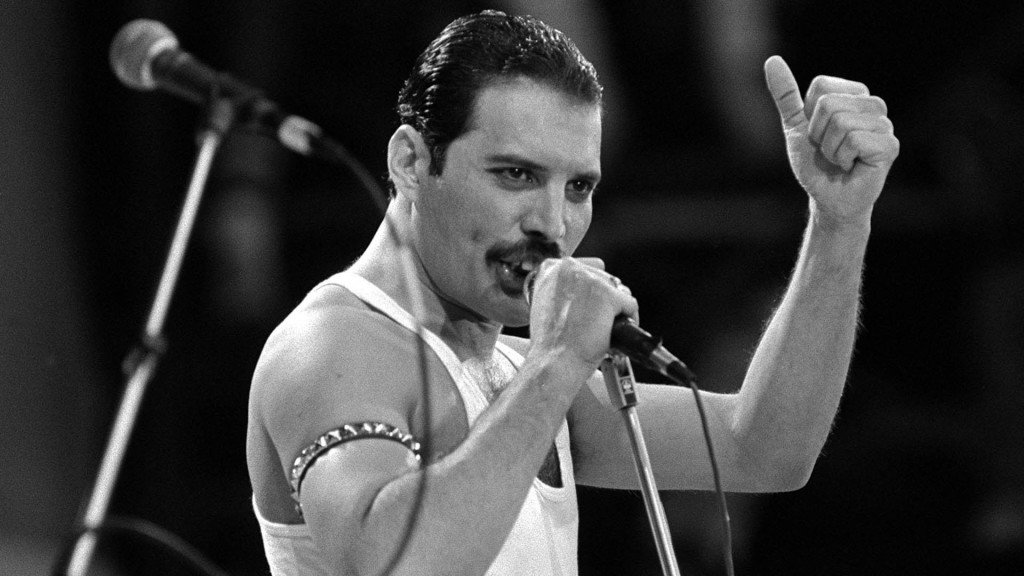 IMAN
As an international model and wife to a legendary pop star, Iman has captured the world's attention with her poise and beauty. But long before she met David Bowie, the Somalian-born beauty fled from her native country during a bloody coup in 1969 for the quiet of Kenya. Born Iman Mohamed Abdulmajid, the statuesque stunner would later be discovered by a photographer before embarking on a modelling career in the United States. But her experience as a refugee remain with her years later. "I could never forget how dehumanizing it feels – not to beg, but to be helpless," she said.
M.I.A.
She shot to stardom with her worldwide smash hit "Paper Planes", but did you know that the singer M.I.A. was once a refugee? Now living in the United Kingdom, she was born Mathangi Arulpragasam as a Tamil minority in Sri Lanka. Following a civil war in that country, her family fled for the stability of London, England where she would go on to carve a successful career in the music industry.
WYCLEF JEAN
He created the prolific hip-hop group The Fugees – short for "refugees" – after he and his family relocated to the United States from their native Haiti in 1982.
THE DALAI LAMA
The revered Buddhist religious leader was forced to flee to India as a refugee during the 1959 Tibetan uprising. By 2013 the Dalai Lama had become the joint most popular world leader by 2013, according to a poll conducted by Harris Interactive of New York, which sampled public opinion in the USA and six major European countries.
ALEK WEK
Her unique brand of beauty went on to change the fashion industry but as a young girl, Alek Wek was forced to leave her country of birth as a refugee. During the bloody Sudanese Civil War of 1991, Wek and her family moved to the United Kingdom when she was just 14.
BOB MARLEY
His lyrics are thoughtful, honest and hard-hitting. But it was this same outspoken nature that made Bob Marley the subject of an assassination attempt in 1976. At a time of great political unrest in his hometown of Kingston, Jamaica, the reggae icon fled to exile in Miami.
GLORIA ESTEFAN
Gloria Estefan was born in Havana, Cuba during the heydey of the Communist revolution. In 1959, at the age of two, her family fled the country for Miami in the United States. The child refugee would later go on to become the Queen of Latin Pop and one of the world's best-selling Latin artists of all time.